Every year Tableau announces their new Tableau Zen Masters for the year. This year I'm proud to say that I, David Murphy, have been added to that list of Tableau Zen Masters.
Their selection criteria is rigorous, but with all of the work I am doing for the data viz community in APAC and online with my site and YouTube channel, I've made the grade – the first in APAC too! Thanks to all of you who nominated me!
So what does this mean going forward? Nothing much really, apart from me being even more engaged in the Tableau community to maintain this title.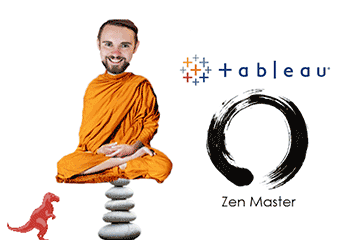 I'll be working harder to update my site and youtube channel with useful and engaging content for you all with regards to to data visualisation topics and Tableau.

I'll be making a new weekly wrap up of good data visualisations I see around the web to share and discuss with you all; Data Chomp
I'll also be at the Tableau Conference in Austin Texas this year, so if you spot me come and say hi (at 6'8" / 2m tall, you can't miss me!)
Let me know if you have any questions, data sets or topics you'd like me to cover in the comments below or here.