A lot of cool new features have launched for Google Data Studio this month. I've already cover the awesome HTML embedding feature over in this post, so today I want to show you another one; Data Controls
. Once you know what they are and what they enable you to do, you'll get very excited.
Essentially "Data Controls enable you to make a dashboard template that dynamically populates with the users data in a single click."
Click here to open my Google Analytics dashboard template, then using the Data Connector drop down menu in the top right to populate it with your own Google Analytics data. Save that url and now you have your very own Google Analytics dashboard in seconds!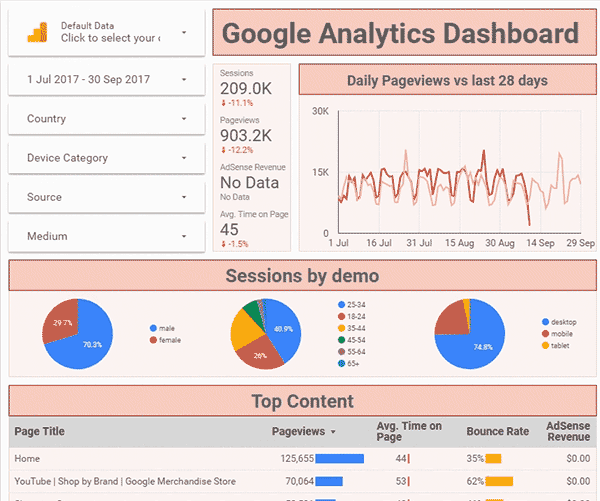 This feature is a game changer for analysts and businesses as it has wide range of benefits for both the creators and consumers of the Dashboards, especially as this applies to multiple data sources like AdWords, Search Console, YouTube, and DoubleClick Campaign Manager.
Dashboard Consumer benefits:
Easy & Fast

1 click process vs multiple stage process to copy a report and connect your data

Multiple accounts? No problem

It doesn't matter if you have access to 1 or 1,000 accounts. They're all 1 click away now
Speeding up your analysis dramatically

Secure

You only see the data sources you're allowed to see
Access is managed by their respective platforms e.g. Google Analytics, YouTube, AdWords etc.
Dashboard Creator benefits:
Ease of implementation

You just drag and drop a data connector into your template and tell it what data sources to look for

Scalable

Spend your time building just 1 dashboard to service many users e.g. 100 users = 1 dashboard built
Instead of 1 dashboard per user e.g. 100 users = 100 dashboards built

1-to-many maintenance

Need to make a change to all the dashboards at once? Doing it this way allows you to do that by altering the master template
The 1-to-many "single source of truth" concept of building secure reports with little time investment is the holy grail for most analysts, and Google Data Studio has made a huge leap in that direction. Let me know if you find this feature useful and how you might use it in the comments below. You can even use my time saver tool to quickly work out how much time you will save because of it.