Ever since I started recording and visualising every on screen death in Game of Thrones, I always knew this moment would come…
(tl;dr scroll down to see the data insights from this weeks episode)
The moment when there was an insane amount of deaths in one episode that it'd take forever to write them all down! It's taken me over 2 hours, my copy and paste hand is cramping but I managed to record them all as accurately as possible.
I decided to dedicate a post about some data insights from the latest episode of Game of Thrones episode; Battle of the Bastards.
Game of Thones S06E09 SPOILER ALERT
So here are my top 3 insights for this episode. Let me know if you'd like me to explore something in more depth in the comments below. Also, explore the data for yourselves by checking out my Interactive Game of Thrones Death Viz.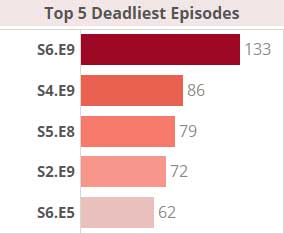 1) Deadliest episode ever
At 133 on-screen deaths, Battle of the Bastards beats the second bloodiest episode, The Watchers on the Wall (S04E09), which still amassed an impressive 86 kills as Jon Snow defended Castle Black from the Wildlings. Hardhome came in at number 3, all involving Jon Snow. I'm starting to see a pattern forming…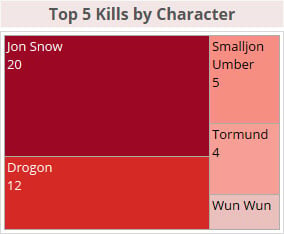 2) Jon Snow is the biggest killer by far
Jon Snow has racked up the highest kill count in a single episode at 20, but also the entire show at 46! To put that into perspective, this puts him above Wun Wun (RIP :'( ), Drogon and even The Hound who average around 30 each and excel at violence.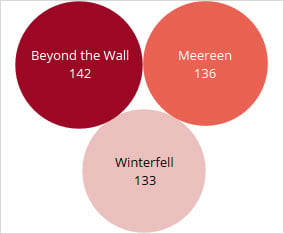 3) Winterfell moves into 3rd position for deadliest place in the world
With the majority of the deaths of this episode occurring at this location, it is no surprise that Winterfell has moved into the top 3 position. It's not enough to topple Beyond the Wall or Meereen, but all it would take is a 9 deaths in the next episode to secure it the number 1 spot!
If you'd like to know more, feel free to visit my Interactive Game of Thrones Death Viz. To see how it works and what it can do, check out this short video below: